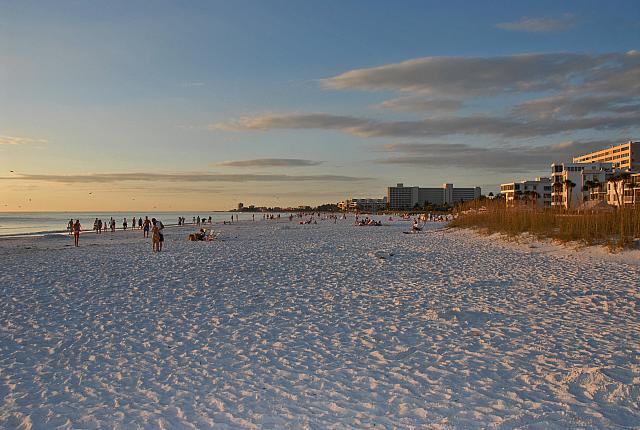 Florida has so many beaches due to being a peninsula on the southern coast of the United States, with three of its edges surrounding by salt water. The fine white beaches are an attraction for many, many tourists.
It should also be noted, Florida is also the destination for many older people in the U.S., either as time-shares, vacation homes, or simply a place to spend the rest of their years. Siesta Key is one of these places in Florida, offering sunshine and sand year-round.
During my visit in December of 2012, it was colder than I expected, with temperatures in the 60s and nippy breezes blowing in from the Gulf of Mexico waters.
Siesta Key is known for its stretches of fine sandy white beaches, and you will not be disappointed. The water can be a little cold in the winter, however, so be warned, it is not the best time to go swimming.
The rest of Siesta Key is hard to get to without a car, although there is a bus system. I recommend a car to get around, because of the sprawling nature of this city.
I stayed in a condo a few minutes walk to the beach, but there are plenty of hotels nearby the beach, also, and you can always find listings on Airbnb.com.
Other than the beaches, there was really not so much to do in Siesta Key, but the beaches do not disappoint.
All opinions are my own.