Hello!
I realized I was in Venice when I tried to play Ms Pacman on Google Maps (Google did this as an April Fool's Day joke that has lasted afterwards so far) and the error message said, 'Sorry, there are not enough roads for Ms Pacman. Try a different part of the map!'
Okay, of course I realized I was in Venice the moment I stepped in Venice close to midnight, but honestly, if you have never been to Venice, it is a strange feeling. There really are no roads. People do take boats on the waterways to transport things and themselves. There really are tall, narrow old buildings from the 1400s and 1500s like you see in the popular video game Assasin's Creed. I half-expected hooded figures in Venetian masks to appear around corners at night and hand rolled-up parchment to ladies in long gowns with complicated frills and lace fans.
I stayed at a wonderful Airbnb called Alle Botte, which was located a hundred meters or so from the Fish Market and Rialto water station. Due to property costs being very high in Venice (renting a 2 bedroom apartment in Venice costs about 2000 Euros per month, not including utilities), the two Italian guys, Alex and Sevag, who run this place split the two bedrooms into dorms, so there is one for girls, and one mixed room. You have your own bathroom per room, a large living room, and a kitchen which is larger than the bedrooms! Alex and Sevag are both extremely nice, helpful, friendly, and funny hosts, and they will go out of their way to make you feel special and welcomed. Definitely would stay here again.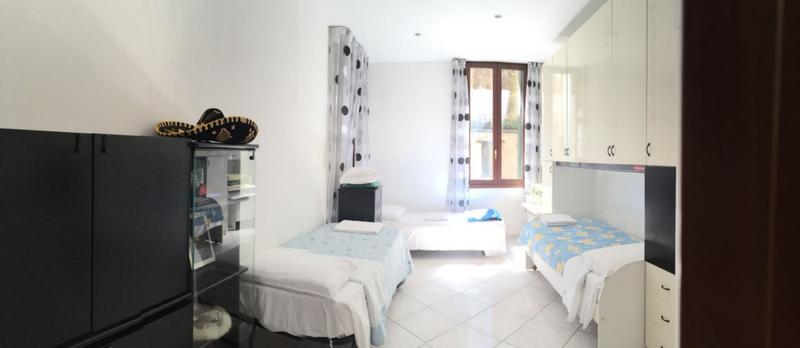 Overall, it was a very nice, low cost option in Venice that I would recommend to any 20-30 year old on a budget looking for a great location to rest a night or two on the island of Venice (for everyone else, there are so many classy hotels to choose from in Venice, you have plenty of options). It is safe, very, very, clean, bright and well lit, lots of white walls and monochrome color schemes, and on the first floor, so it is not on the ground where the water in Venice sometimes overruns the streets. It costs about $35 per night and you can book on HostelWorld.com or through Booking.com or Airbnb.
As for Venice itself, I was thoroughly enjoying the beautiful canals, the picturesque views on every street, and the old palace and churches in the Castello district. Venice is shaped like two cupped hands one-inside-the other, with the Grand Canal running through the space between. It's an easy way to remember where you are if you don't want to consult a map. There are three main bridges connecting the two halves, and everything is in walking distance as Venice is small, only a few miles across.
To get to Venice island from Tronchetto bus stop, you have to take a 5 minute ride  (2 stops) on the People Mover Train, which costs 1.50 Euros. Then you are in Venice. From the bus station Santa Lucia, just start walking, you are already in Venice.
You can get around by water taxi, or by paying for a water bus/ferry ticket, which starts at 7 Euros. There are so many things to do and see in Venice, you will not be disappointed. Though Venice is expensive, it is very particular and a must-see in Europe, so a day-trip is worth the price.
What to do in Venice:
Honestly, Venice was like a beautiful historical theme park for me. There were lots of tourists with cameras taking photos of everything, and little shops selling everything from pizza to gelato to sandwiches to everyday goods like toothpaste and toilet paper, and of course, being Italy, lots of leather shoes, handbags, designer sunglasses, boater hats, and souvenirs.
I would recommend trying the large, tempting slices of pizza from any one of these small hole-in-the-wall vendors, as long as you can tolerate gluten, as well as the gelato. There are numerous small restaurants around the area in Venice, and you really can't go wrong. Wine is cheap by the bottle, and so is food — it is just that there are a lot of tourist traps in Venice, so choose wisely.
I didn't go on any gondola ride or inside any museum, to be honest. There were really long lines for the castle and the main historical attractions, and to me, waiting in line to go inside wasn't worth it. The gondola rides are 80 Euros per boat for 35 minutes down the canals, or 100 Euros at night. This also seemed a little high for me to get a view of the canals from the water.
I spent hours upon hours walking around and around and around the streets of Venice. It is a bit maze-like, but I enjoyed the mystery. Each corner led to something surprising and beautiful, and my favorite areas were away from the main touristic spots and in the quieter residential areas near Rialto and the gardens near Santa Lucia (the bus stop). There, away from everyone, I really felt like I was experiencing the 'real Venice.'
Time for the photos! Enjoy! As always, all opinions are my own.